Madisyn Hardy, Editor & Reporter

October 31, 2017
Lily Freese, Reporter
December 25, 2017
Tim Horton's in Monroe has confirmed that one of the workers tested positive for Hepatitis A. The employee works at the Tim Horton's on Monroe Street was made aware of the infection and immediately informed the...
Kip Mayes, Reporter & Editor
October 23, 2017
Monroe High is now enforcing a rule that states players are encouraged not to kneel for the injured during games. This rule was posted on the MHS Trojans athletics page on Sept. 22 and reads "Ladies and Gentlemen, through...
Alliyah Trim, Editor & Reporter
October 13, 2017
MCCC Upward Bound program received a grant of about $4 million to add Jefferson High School to the program and other Upward Bound expenses as of Sept. 1. Upward Bound is a program that prepares high school students for...
View All »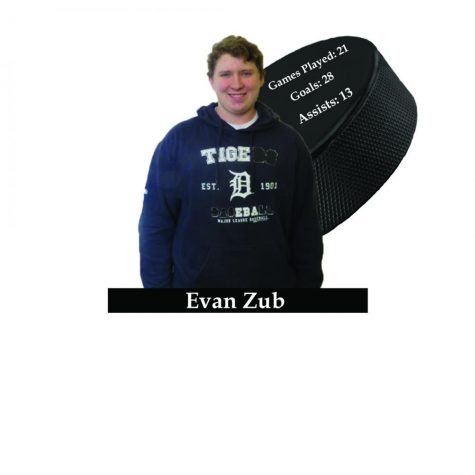 Mady Vasbinder, Reporter
April 27, 2017
As a senior facing the last few months of his high school career, Evan Zub, captain of the MHS hockey team, reminisces on what got him to where he is today. Zub has been...
March Madness brackets come to an end
April 24, 2017
The NCAA 2017 March Madness tournament came to an eventful close along with the month after which it's named. The tournament...
Boys' bowling team makes it to states
March 30, 2017
Monroe High School's boys' bowling team made its way to states at Sterling Lanes on March 4. The team had a great...
View All »
Elizabeth Smith, Reporter
December 25, 2017
Santa Claus has been a Christmas staple for hundreds of years. He's at every store, in songs and in pretty much every Christmas movie that's ever been made, but where...
Student speaks out about students needing a longer winter break
December 25, 2017
Winter break serves as a much needed break from school, but a lot of students complain that it's not long enough. It's...
Student shares the real meaning of Christmas
December 25, 2017
When you think of Christmas, you often think about Santa, snow, and gift exchanges. Children and teens create Christmas lists...
Standard-based grading lacks uniformity at MHS
December 5, 2017
Everyone should now be at least somewhat aware of the new motion to switch to standard-based grading, although it wouldn't...
View All »
Ivana Goncin, Senior Reporter & Editor
December 11, 2017
From singing Christmas melodies to gospel songs, the choir always has something new to bring to the table. This new upcoming trimester is bringing in a lot of new things for MHS choirs.  Right after the Thanksgiving vacation, choir kicked off the...
Gracyn Wener, Reporter & Editor
June 2, 2017
A crowd of all ages from all generations gathered in full force Wednesday night, May 17, at Joe Louis Arena for the joint concert tour of Hall and Oates and Tears for Fears. Both 80s duos were major parts of MTV's early days and the nearly four-hour...
Madisyn Hardy, Reporter
May 23, 2017
On May 6, the Monroe High School Wind Ensemble participated in State MSBOA Band and Orchestra Festival. In order to go to States, groups have to receive the highest rating at Districts, which is a one. Under the direction of Jim Nuechterlein, the MHS...
Kip Mayes, Reporter
May 23, 2017
MHS has recently brought back the opportunity for students to attend the Michigan College of Beauty as an elective. Starting next year, several junior and senior MHS students will attend the college located on South Monroe Street for their fourth and...
Apple, Samsung continue competition
April 24, 2017
The never-ending rivalry between Apple users and Android users may be getting juicier as new phone releases approach. According...
'Beauty and The Beast' gets banned in theaters
March 30, 2017
Another Disney movie is getting bashed for being more diverse. The Disney Company has been known in the last 50 years...
Upcoming music festivals anticipate large crowds
March 8, 2017
Music festival season is finally approaching, and with that, multiple star-studded lineups have been announced. From big...
View All »